ASTM D2583-13a
Standard Test Method for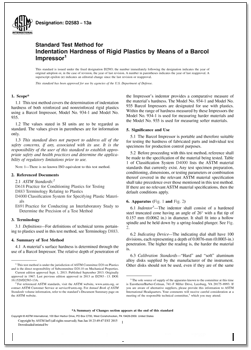 Indentation Hardness of Rigid Plastics by Means of a Barcol
Impressor
1. Scope
1.1 This test method covers the determination of indentation
hardness of both reinforced and nonreinforced rigid plastics
using a Barcol Impressor, Model No. 934-1 and Model No.
935.
1.2 The values stated in SI units are to be regarded as
standard. The values given in parentheses are for information
only.
1.3 This standard does not purport to address all of the
safety concerns, if any, associated with its use. It is the
responsibility of the user of this standard to establish appropriate
safety and health practices and determine the applicability
of regulatory limitations prior to use.
2. Referenced Documents
2.1 ASTM Standards:
D618 Practice for Conditioning Plastics for Testing
D883 Terminology Relating to Plastics
D4000 Classification System for Specifying Plastic Materials
E691 Practice for Conducting an Interlaboratory Study to
Determine the Precision of a Test Method
3. Terminology
3.1 Definitions—For definitions of technical terms pertaining
to plastics used in this test method, see Terminology D883.
4. Summary of Test Method
4.1 A material's surface hardness is determined through the
use of a Barcol Impressor. The relative depth of penetration of
the Impressor's indentor provides a comparative measure of
the material's hardness. The Model No. 934-1 and Model No.
935 Barcol Impressors are designated for use with plastics.
Within the range of hardness measured by these Impressors the
Model No. 934-1 is used for measuring harder materials and
the Model No. 935 is used for measuring softer materials.
5. Significance and Use
5.1 The Barcol Impressor is portable and therefore suitable
for testing the hardness of fabricated parts and individual test
specimens for production control purposes.
5.2 Before proceeding with this test method, reference shall
be made to the specification of the material being tested. Table
1 of Classification System D4000 lists the ASTM material
standards that currently exist. Any test specimen preparation,
conditioning, dimensions, or testing parameters or combination
thereof covered in the relevant ASTM material specification
shall take precedence over those mentioned in this test method.
If there are no relevant ASTM material specifications, then the
default conditions apply.
在线阅读
免费下载